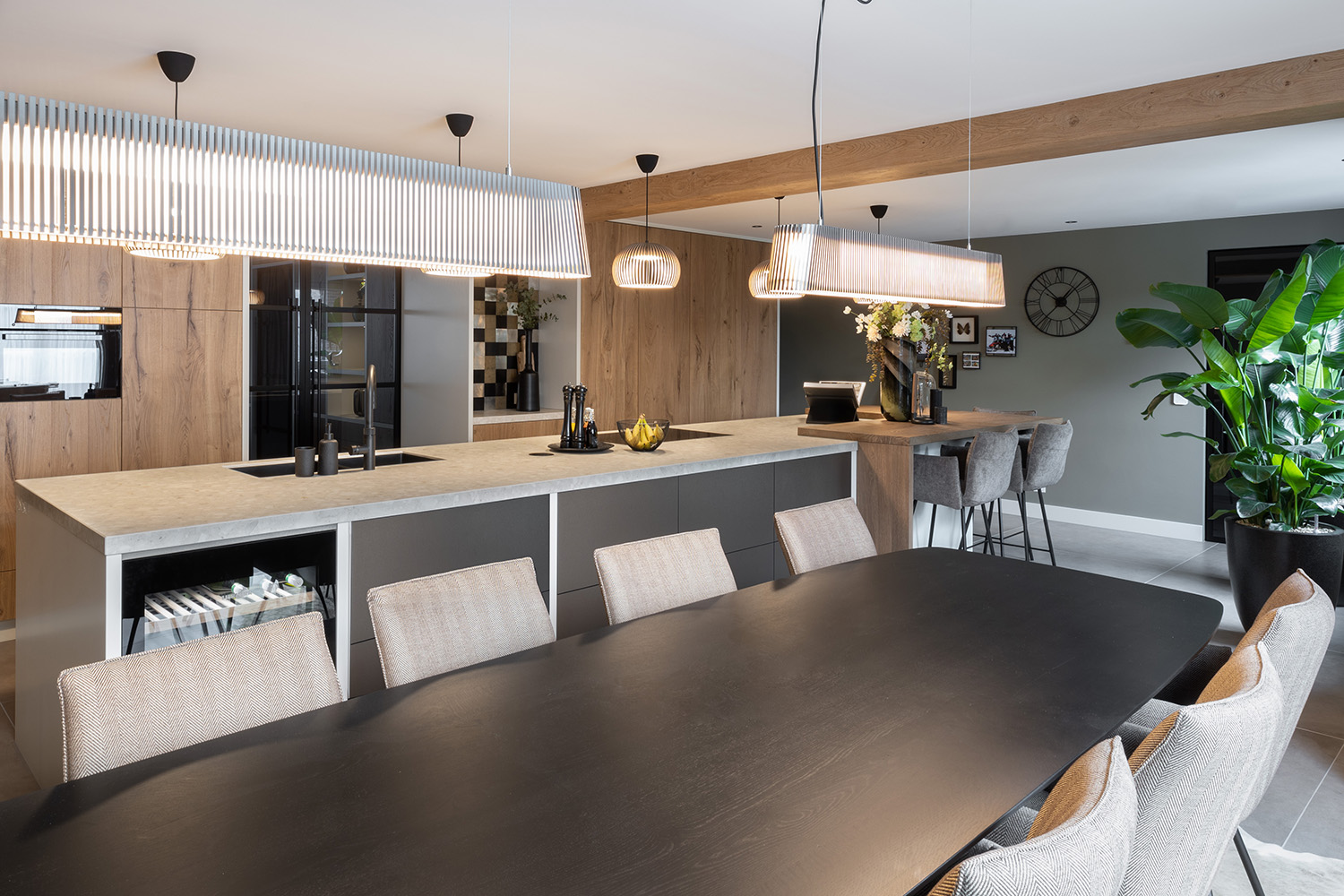 In this home with luxurious interiors, a spacious feeling is created as all spaces blend together beautifully in terms of materials and atmosphere. The extensive use of the same materials creates a sense of tranquility and balance. In every space you feel that it is right, despite the fact that the living spaces are separated by doors. To still maintain the connection, steel doors with transparent glass were chosen. The office and living kitchen are also connected. Not through a steel door, but through a fireplace. Both the office and the living kitchen enjoy the see-through fireplace.
A sparkling interior consists of several layers in which multiple elements are interwoven. The stunning accessories add personality and karkater. In this living room, this results in a warm and inviting atmosphere where you can relax in the evenings.
Through the living room, you look right into the country living kitchen. In the kitchen design of this home, function and style merged to create the ideal kitchen niche. Dauby's insane wall tiles make this niche the focal point of the living kitchen. Not only do the tiles from the kitchen make this luxurious interior special, but also the wall tiles in the toilet and bathroom create a beautiful look. Several walls in the bathroom and toilet are covered with the ceramic wall tile from the Piet Boon collection. The shiny, green-gray tile gives the whole place a chic look.
See more of our projects here.
At Hemels Wonen, we believe it is important to get to know our clients personally. This is important for creating the most essential and surprising design possible. We immerse ourselves in the client's style and wishes, which is why every Hemels Wonen design is unique.