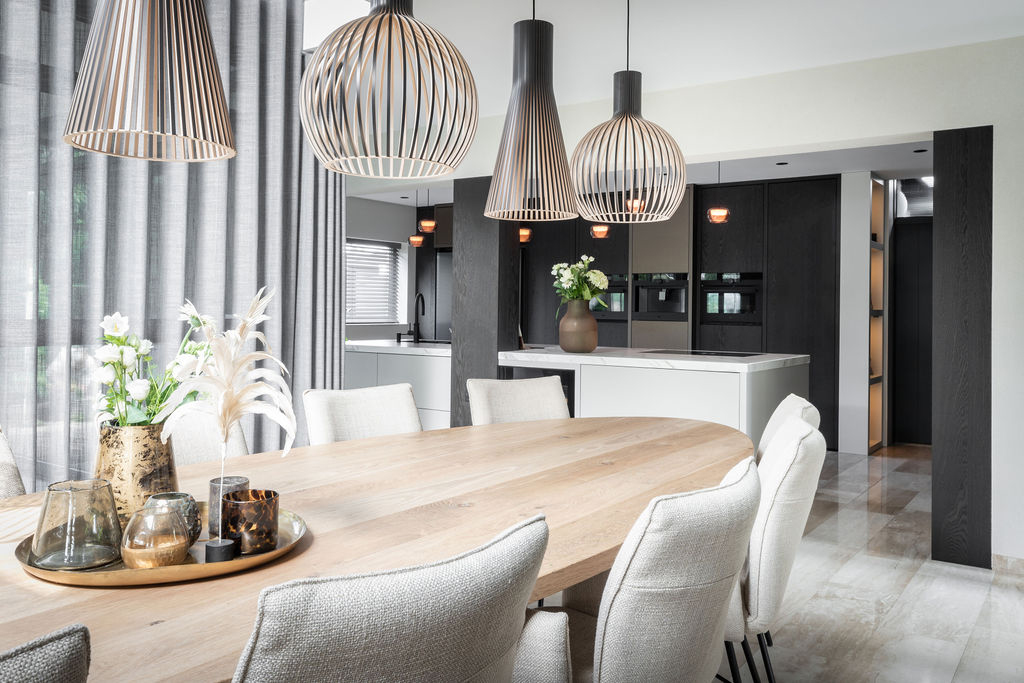 Modern, spacious, light and warmth all come together here in this beautiful villa in Someren. In this home, we used different warm materials. This creates a nice balance with the light character of the house. The warm materials in combination with the atmospheric lighting plan, such as the lamp Secto Design Octo, creates an atmospheric whole.
In the living kitchen a dark feature wall was chosen with a protruding cabinet realized in a different material. Together with the sleek kitchen island with marble countertop, the kitchen is the eye-catcher of this villa. The warmth of the veins in the marble top is very nicely reflected in the color of the sky lights above the island. This makes you feel the warmth throughout the villa.
In the living room and kitchen, the choice was made to keep the existing natural stone floor, finely extending the modern style. The perfect balance between the different earth tones that recur throughout the house creates a spacious but warm atmosphere. This warm atmosphere is enhanced by a cozy and atmospheric lighting plan.
In the bathroom, a rust-look tile was chosen, blending superbly into the completely marble-tiled space. The chic washbasin cabinet provides a nice break in the bathroom. The whole has a luxurious appearance.
Check out our other projects here.
At Hemels Wonen, we believe it is important to get to know our clients personally. This is important for creating the most essential and surprising design possible. We immerse ourselves in the client's style and wishes, which is why every Hemels Wonen design is unique.