Unburdening the customer in the many choices that come their way. That is what we do at Hemels Wonen. A beautiful living space that adapts to your daily life. Where you start and end your day in a relaxed atmosphere. We create a practical living space that is cozy and visually distinctive. These are spaces such as a kitchen, bathroom, living room and master bedroom. In addition to residential homes, we also design vacation homes, office spaces or wellness areas. Your wishes and our expertise are the basis for every step.
Developing your dream space starts with designing personal wishes and requirements. These wishes and requirements are elaborated into floor plans and surprising sketches. From a custom-made kitchen to a fireplace, a custom-made design with leading elements designed to perfection. Together with the entire team at Hemels Wonen, we are busy creating your dream space. Everyone has their own part in the process and this makes for great diversity, creativity and versatility.
Interior design is about creating and shaping spaces that focus on functionality and unity. The art of design is that we coordinate all parts, which is why each design is custom-made. We give the client a realistic picture by presenting the various materials together. This allows the client to physically hold each material for a moment and get a feel for it. We then present the interior design through a 3D program, 3D animation or rendering. This provides a lifelike representation of the new interior: start dreaming about the future already.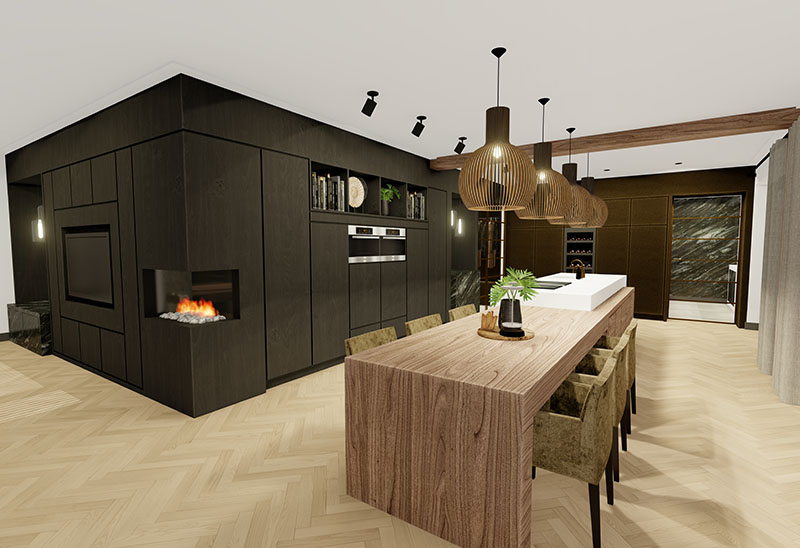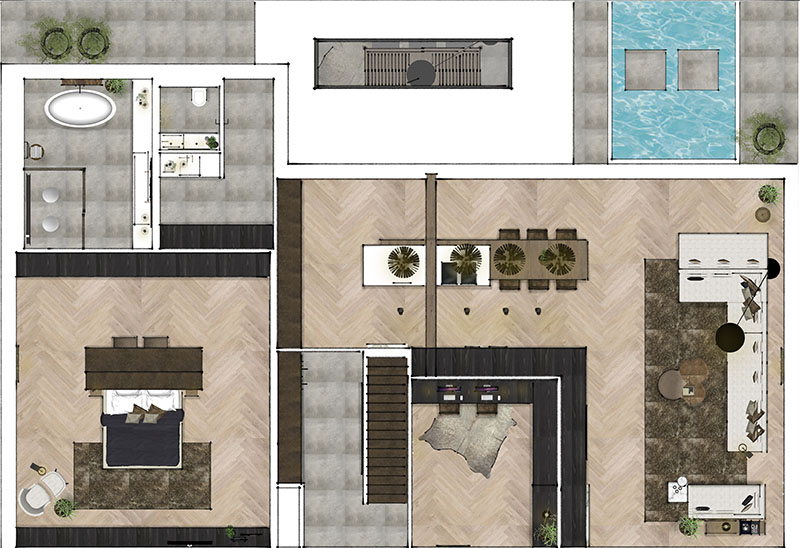 The 3D drawings are the first step toward the final result. This is followed by the next element in interior design - the lighting plan. New construction or renovation, we provide the light points with the correct dimensions. We do this so the lights will later be placed in exactly the right place. We make a complete plan and look for the right fixtures for your dream house. To make the drawings come to life, we choose the right materials that completely match the client's wishes. We then present this in a materials and furniture plan.
At Hemels Wonen, we believe it is important to get to know our clients personally. This is important for creating the most essential and surprising design possible. We immerse ourselves in the client's style and wishes, which is why every Hemels Wonen design is unique.