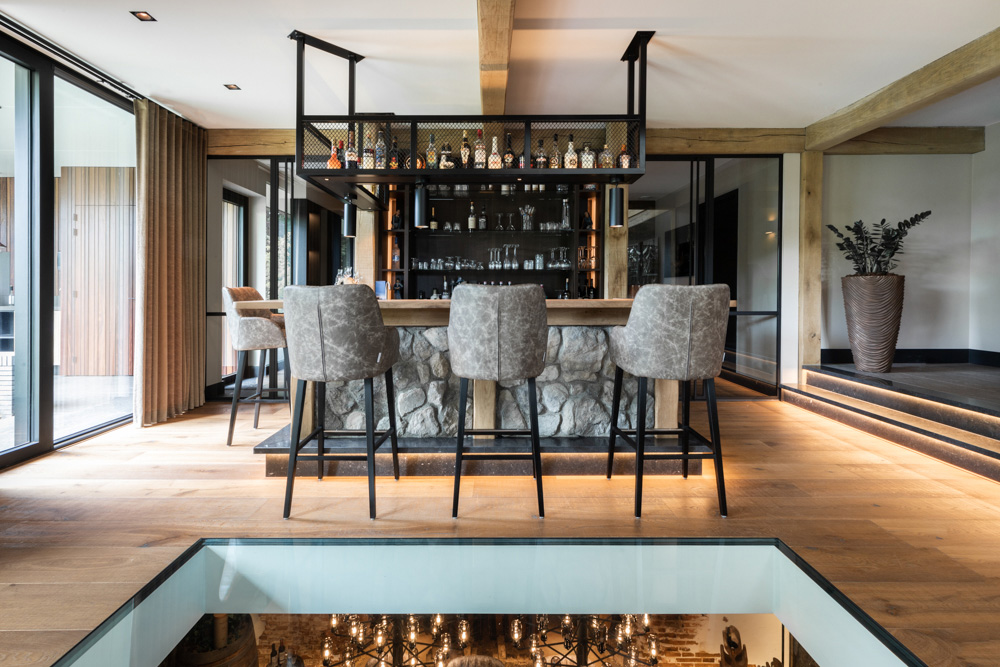 The interior design we designed for this beautiful home exudes exclusivity, but is not too much. We searched for the right combination of quality, comfort and style. The wish of the residents was an interior with a lot of diversity, but still unity. It had to be a relaxed and inviting place where they could spend time both with a small group and a larger group. We looked at the condition of the original home and went on to design based on this. From design to styling, we were involved in this project to make sure everything went smoothly.
A great desire of the residents was contact with the expansive garden. Therefore, the garden is an important component in this interior design. The architect implemented this wish of the residents by using large glass facades. This creates an enormous amount of light which gives the feeling that the garden is drawn into the house. The entire layout faces the garden to strengthen the connection with the garden.
The home is equipped with every convenience. The beautiful kitchen with an island stands shining in the center of the room. From the living kitchen you walk directly into the living room where you can fully relax with stunning views of the generous garden. From the garden you can cross directly into the beautiful outbuilding. Here you can enjoy a soothing wellness with sauna and steam shower. Or discover the spacious fitness area. After this, walk straight to the bar or have a drink in the exceptionally beautiful wine cellar.
For the material plan, we carefully examined the client's taste and chose materials that reinforced each other. We also challenged the client to make exciting choices, such as the boulder wall in the basement. In the home, we had many materials recurring throughout the entire house to create a harmonious whole. Despite the recurring materials, each space has its own identity and experience. This makes the home one of a kind. The materials in this interior design are of original origin to maintain the natural atmosphere.
At Hemels Wonen, we believe it is important to get to know our clients personally. This is important for creating the most essential and surprising design possible. We immerse ourselves in the client's style and wishes, which is why every Hemels Wonen design is unique.