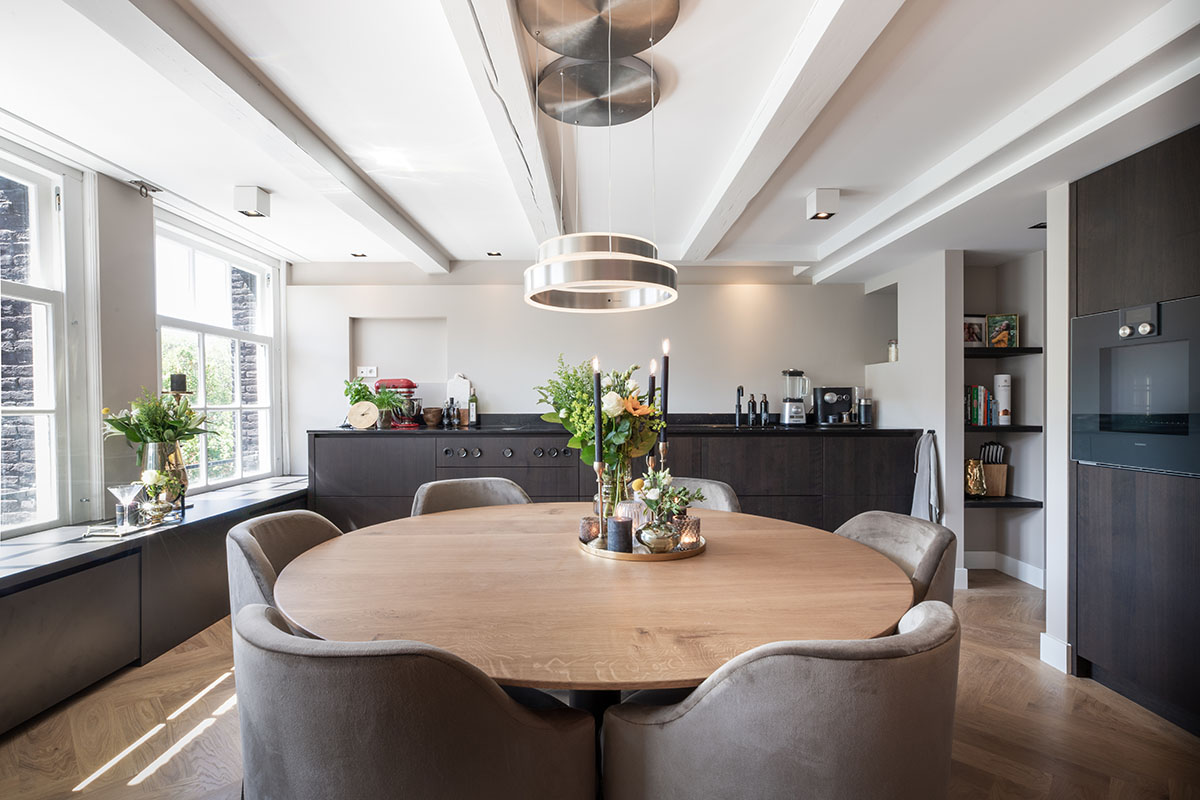 Canal house full of opulence
A beautiful home with lots of character and a spacious atmosphere; that is immediately the feeling you get when you look at the pictures of this beautiful canal house in Amsterdam. In the entire house, except for the bathroom, a quiet wooden floor was chosen, mainly in herringbone pattern. This provides a nice base that allows the chosen furniture in the various rooms to be fully appreciated.
The spacious living kitchen of this home is perfectly connected to the outside thanks to the new design. The windows create an open space, making the dark-colored kitchen stand out. Several attractive details and low dining give the space a friendly, relaxed atmosphere.
The living room is also an ideal place to stay in this luxury townhouse. A combination of various shades of brown and beige with soft textures gives this space a warm feel and you can really relax here. Eyecatchers are the green and natural elements: various large plants in striking shiny pots, colorful bouquets and of course the special decoration. The Brokis Muffin lamp is also something that immediately attracts attention. Together with the soft rug and cushions, it gives this room a warm atmosphere.
The look of the living room is carried through to the master bedroom: this space also has a chic and peaceful atmosphere. The dark carpet with Persian print makes the large bed take center stage. In addition, the striking white wooden monumental beams give character and create a spacious feeling. This calm and spacious design is also evident in the study. For example, lamps by Moooi Non Random and the monumental beams here clearly indicate the height of this room. The neutral color choice of this room is perfectly balanced with the striking accessories that have been added.
The bathroom has a clean design and has plenty of light thanks to the Velux windows. Together with the light marble tiles, this makes the dark bathroom cabinet stand out beautifully. The striking gold-colored tiles in the recessed niche give this bathroom a chic atmosphere. Small details like this in different areas of the home give a luxurious feel and are perfectly balanced with the soft warm color tones used as a base in many rooms.
Even in the guest room, the beams play an important role in the atmosphere of this place. They show the height and really emphasize the history of this building on the Prinsengracht.
At Hemels Wonen, we believe it is important to get to know our clients personally. This is important for creating the most essential and surprising design possible. We immerse ourselves in the client's style and wishes, which is why every Hemels Wonen design is unique.