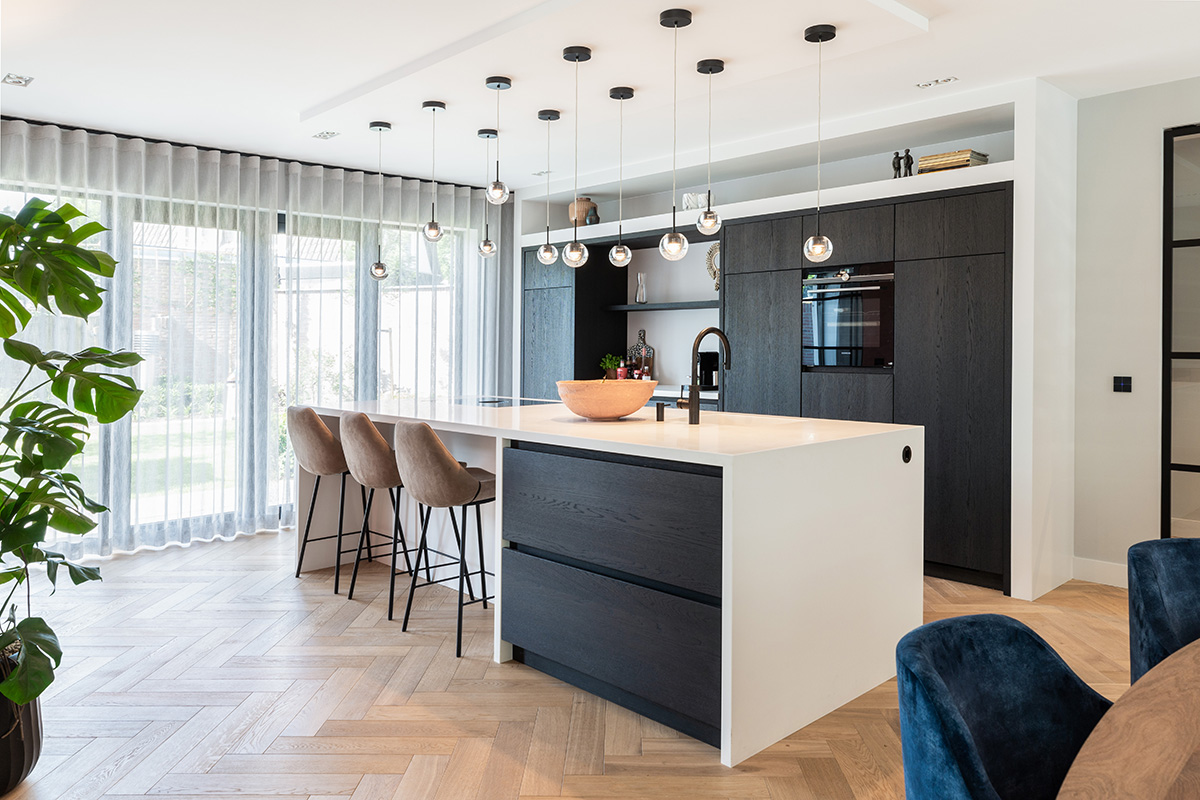 This modern new construction home is located in the Tilburg area. The residents were looking for change regarding the interior and the house. They therefore decided to remove the existing house and create a completely new project. Their dream house! With the aim of living as energy efficient as possible.
A beautiful house with a white facade and dark roof which immediately creates a nice contrast. The house already has a light character because of the large windows. This is enhanced by the light walls and a light herringbone floor on the entire ground floor. To also contrast inside the home, we chose to add color accents to this interior plan. Pink wallcoverings in the living room, velvet blue dining chairs and subtle color accents in the accessories provide a nice color palette and contrast in this newly built home. This colorful interior is completely balanced and therefore provides a peaceful look and a sense of unity.
Connection and contact are two important elements for the residents and therefore also in the interior plan. There is an open connection between the living room and kitchen where several seating areas are created. A corner sofa where the whole family can relax, the dining room table, the bar at the kitchen island and a seat to relax or just to isolate yourself.
At Hemels Wonen, we always design with the residents' lifestyle in mind. A bedroom with adjoining bathroom was high on the residents' wish list. To continue the feeling of the house, the accent colors blue and pink are also used in this room. An attractive and colorful interior as the end result!
Other projects view here.
At Hemels Wonen, we believe it is important to get to know our clients personally. This is important for creating the most essential and surprising design possible. We immerse ourselves in the client's style and wishes, which is why every Hemels Wonen design is unique.