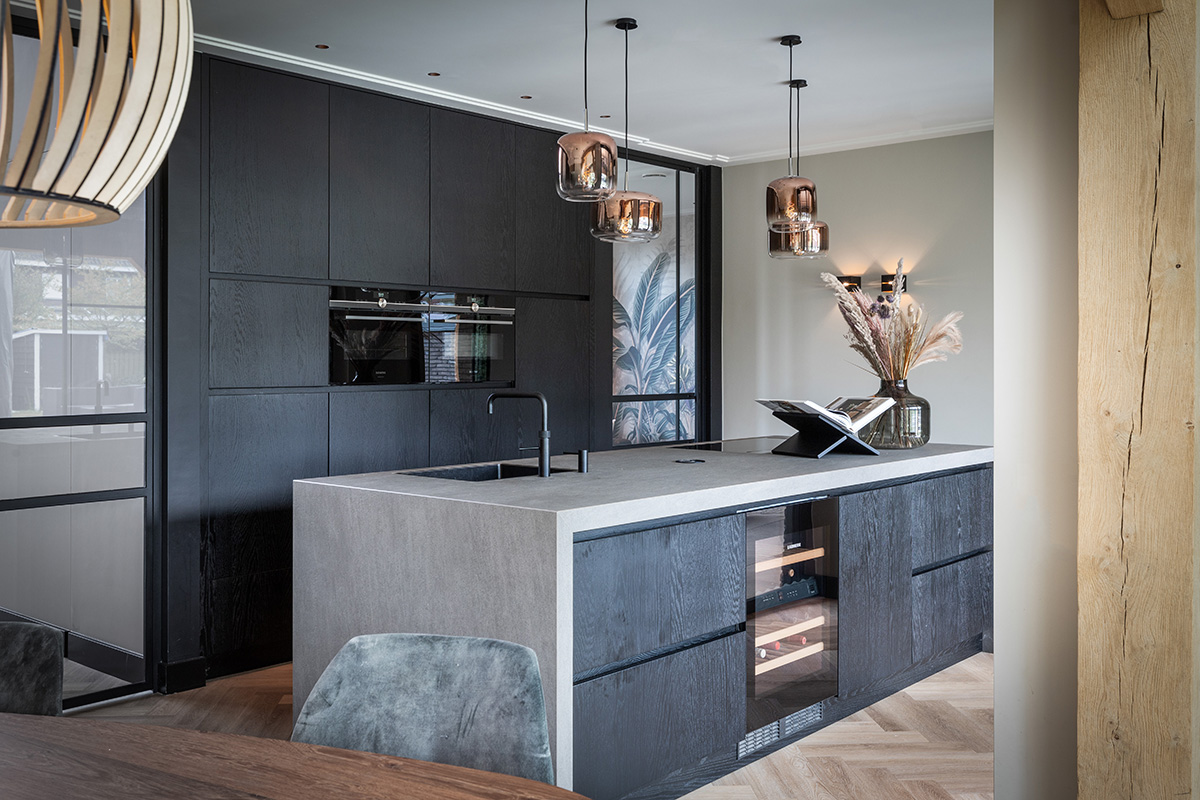 Modern new construction interior
This gleaming villa features several large glass fronts. Not only does this look insane from the outside, but also from the inside you have magnificent views of green surroundings. There is no shortage of daylight in this villa. Upon entering, there is a sense of openness. From the hall you look directly, through the house, on the garden which enhances this feeling even more. Brilliant!
Plenty of light is wonderful, but this should be taken into account in a new construction interior. There needs to be a balance between light and dark. Therefore, we added the right amount of dark by means of a long black (closet) wall that runs all the way from living room to kitchen. The balance between light and dark, the different shapes, beautiful textures and neutral tones make this interior design exciting and stylish.
The bathroom in this home has a clean look with fully tiled walls. To keep the new construction interior from becoming too "cold," we added warmth and vibrancy through wooden accents, plants and round shapes. The oval bath is placed directly in front of the window and enjoys a beautiful view of the greenery. We covered the wall with the huge glass window with wooden wall panels. This adds warmth to the bathroom, but also provides better acoustics.
All the living spaces in this house are located on the rear side, allowing optimal contact with the garden. The garden is one of the many pleasant aspects of this dream home. The spacious canopy makes it possible to enjoy it all year round. Once the temperatures rise, the canopy creates a nice place in the shade and with the lesser days you are still nice and dry.
At Hemels Wonen, we believe it is important to get to know our clients personally. This is important for creating the most essential and surprising design possible. We immerse ourselves in the client's style and wishes, which is why every Hemels Wonen design is unique.