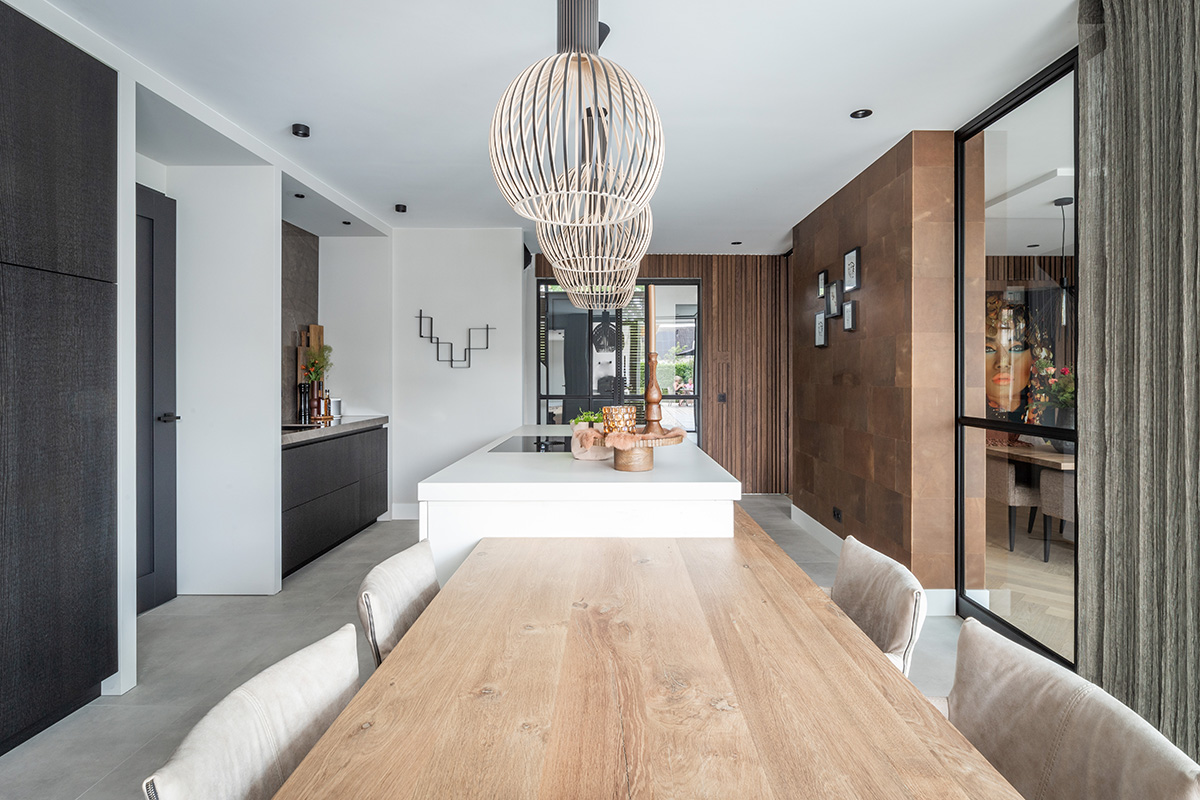 A new construction home in a beautiful lane with lots of nature around it. The imposing exterior of the new construction house consists of a beautiful thatched roof with white facades. In addition, this villa has many windows creating a wonderful connection between inside and outside. From all rooms in this white villa you have breathtaking views of the spacious garden with swimming pool. On the outside the house is grand, but on the inside it had to exude a cozy and warm interior.
This dream home was created entirely around the personal wishes of the residents. Spending hours in the kitchen to serve the most delicious dishes on the table is one of their favorite pastimes. The kitchen and dining room were therefore essential parts of the interior plan. A place for cooking and dining together. The kitchen and dining room are directly connected by glass doors. This gives both spaces their own identity but maintains contact. The wall between the kitchen and the dining room is completely covered with leather which provides a warm and cozy atmosphere.
Besides its appearance, the dining room has eight lovely chairs where an entire evening can be comfortably dined. The perfect space to host dinner parties and have nice long dinners.
In this home, we created several spaces so that the residents could enjoy their dream home in both pairs and multiples. Although multiple spaces were created, the connection and openness had to remain. By using rich materials, such as the leather wall coverings and furniture fabrics, we created a warm interior. One space that does completely stand out from the rest of the home is the study. A secret door allows you to enter this space. In this way, the work is not always visible and you have the opportunity to shut yourself off completely.
At Hemels Wonen, we believe it is important to get to know our clients personally. This is important for creating the most essential and surprising design possible. We immerse ourselves in the client's style and wishes, which is why every Hemels Wonen design is unique.